BELLA'S FRENCH CONNECTION
with a
NEWFIE TWIST

---
DEDICATED TO
GILLESBERT DE ROCHFORT
"RUFUS"
1991-1996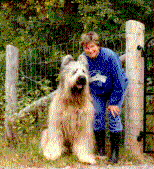 Bella and Rufus
---
---
Hi! The Boyles family lives in a small rural town 30 minutes from Toronto. My name is Bella and I was born in Montreal, Quebec on May 04 1937. I grew up in Montreal, attended business college and worked in my mother's business.In 1957, I met Wilson and we were married in 1958. We have lived in Port Credit, Montreal, Halifax, Scarborough and when Wilson retired in 1991, we moved to the country... 12 acres with 3 acres of stocked pond and an apple orchard.
I have an interest in genealogy,but Wilson really is the avid genealogist in our family. I enjoy gardening.

My husband Wilson was born on May 23, 1934...son of Arthur Boyles and Lima Joyce of Newfoundland. To learn more about Wilson and his family you can visit his site through the BOYLES connection

We have two children....Arthur Verne and Mary Ann...both are home owners and live within 45 minutes of us. Mary Ann is a stunt performer for movies and television.. She has doubled for Sharon Stone, Kelly McGillis, Kathy Ireland and Linda Carter..to name those most well known.
---
.


KEY NAMES I AM RESEARCHING
STATUS
SURNAME
# GENERATIONS
KEY NFLD or QUEBEC FAMILY FOUNDER
Some history & small database available...ONGOING
BOYLES
6
George Boyles:- b 1833 England Settled in Bay Bulls d Sept 3,1907 St John's
Small database available...ONGOING
BILES
6
James Henry G. Biles:- b 1843 England Settled in St Anthony d Dec 22,1915 St Anthony
Large database available...on going
JOYCE
7
7


2

3

Robert Joyce:-b abt 1775 settled in Freshwater
James W Joyce:- b 1806 settled in Burin area d Sept 12,1897 Hay Cove,Nfld
Patrick Joyce b Abt 1870 Ireland Settled in St John's d Dec 6,1940 St John's
Matthew Joyce b Abt 1800 Ireland Settled in Goulds
BENSON
2
Johnathan Benson:- Settled in Grates Cove Wilson's paternal g-grandfather
PIKE
3
George Edward Pike:- Settled in Freshwater Wilson's maternal g-g-grandfather
Large data base available...Ongoing
COTE
13
Jean Cote:- b 1605 Mortagne, Perche, France d March 27, 1661 Quebec
Initial data base available...Ongoing
CLOUTIER
14
Zacharie Cloutier:- b 1590 Mortagne, Perche, France d Sept 17,1679 Chateau-Richer, Montorency, Quebec
---
Each section will show:-
................................History of the Surname.
................................Family Folklore.
................................A key family photo.
................................The key family founders.
............................... And 3 generations in detail..
---
---



MY ON-LINE FAMILY DATA BASE

A searchable data base which permits generation of ancestor & descendant charts

Data base contains birth,marriage,death,baptism and burial dates & places + lots of notes on key people... Still a lot of work to do to get info into the system

IMPORTANT......


If this is your initial visit to my site...enter here to learn how the database is set up and how to find your way around the files>>>>>>>>>>>>>>>>>>>>>>>>>>>

---
WHO IS BURIED WHERE!
Cemetery listing showing names of key family members buried there...
UNDER CONSTRUCTION...5% covering Joyce(Nfld) on line very soon
Have a lot of data for Gaspesie...not yet on line
---
OTHERS SEARCHING FOR THEIR QUEBEC ROOTS
---
RESOURCES

This will contain a complete list of my sources...all of my data is sourced in my personal data file... low priority to get on line at moment

---

---
---

E-mail me
---
Copyright &copy 1999 Wilson Boyles

VISIT OFTEN...THIS SITE WILL BE UPDATED FREQUENTLY